The semi-finals had three Fords and one Chevrolet. Larry DeCamp - '69 Camaro, Casey Reed - 2011 Mustang V6, Dave Carman - '69 Mach 1 and Scott Christensen - '89 Mustang GT. DeCamp took the win over Reed due to a redlight, while Scott Christensen defeated Dave Carman.
In the finals, Scott Christensen go the win at the starting line, when DeCamp redlit. Scott dialed a 12.26 and Larry a 12.24. It was a good match-up. Regardless of the redlight, both cars ran them hard down the track. Decamp brokeout with a 12.22 and Scott clocked a 12.28.
Scott Christensen
receiving the winners trophy from CCCA Race Director Jason Cooper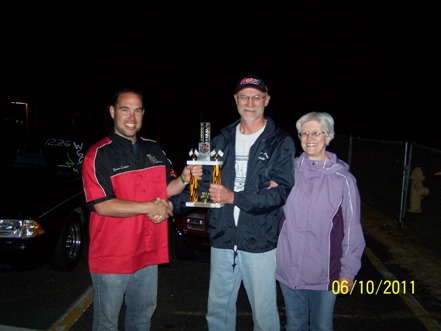 Larry DeCamp
receiving the Runner-up trophy from CCCA Race Director Jason Cooper

_________________
Kent Magruder
Site Administrator
Former CCCA President
Current CCCA Treasurer
W01 Ford Drag Team Capt.